Quality Spas is a long-standing, family-owned business that has been providing high-quality customer service for over 25 years. Our experience in the industry has allowed us to perfect the art of hot tub cover production, and we take pride in offering custom-made covers that are tailored to our customer's specific needs.

Our team is made up of highly skilled professionals who have over 15 years of experience producing hot tub covers. We believe that our team's expertise sets us apart from other businesses in the industry. We are committed to using only the best American-made materials to ensure that our hot tub covers are of the highest quality.

At Quality Spas, we know that our clients want a hot tub cover that is both durable and aesthetically pleasing. That's why we offer customization options, including size, shape, and color. Our mission is to provide our customers with a hot tub cover that is not only functional but also complements the look and feel of their outdoor space.

In addition to our custom-made hot tub covers, we also offer a range of other products and services. We are committed to providing our clients with a comprehensive range of services to ensure that their hot tub experience is always enjoyable and hassle-free.
Choose Quality Spas for all your hot tub cover needs and experience the difference that comes with working with a team of professionals who are passionate about what they do.
Quality Spas uses weathers-shield material made from PVC-coated canvas, which performs well in snowy winters and hot summers. Our covers have a 5" to 3" taper that allows water to shed off your hot tub more efficiently, preventing buildups or breaks within the foam. We also use 1.5 LB density foam, making the hot tub cover strong and durable during high snowpacks in winter. This foam also improves insulation, keeping the heat inside and making your hot tub more energy efficient.
How do I measure for my new cover?
To obtain an accurate measurement for your hot tub cover, we need four measurements:

Length (measurement B in the diagrams above)

Width (measurement A in the diagrams above)

Radius (highlighted in the diagram above)

To measure the radius corners, we recommend using a T-Square.
Skirt Length (measured from the top of the hot tub to the beginning of the wood paneling

If you are unable to measure your hot tub and provide accurate measurements, a Quality Spas representative can measure your hot tub for an additional one-hundred-dollar charge on top of the price of the hot tub cover.

Quality Spas cannot refund the price of your cover if you have provided inaccurate measurements to our hard cover specialists. All sales are final.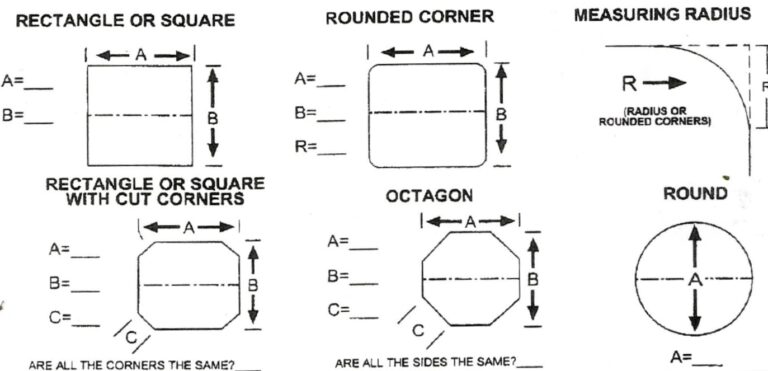 When do I replace my hot tub cover?
It is recommended to replace your hot tub cover if there are any rips, tears, excessive calcium buildup, broken foam, or if it is starting to get heavy. Additionally, when the cover is full of water, it can lead to bacteria such as mold and mildew.
Hot tub covers typically last for 5-6 years if properly maintained. To extend the lifespan of your hard tub cover, make sure to perform regular chemical maintenance, use a bubble blanket, and wipe off the cover once a month.
What is the price of a new hot tub cover?
Custom hot tub covers start at $600 plus tax
Does Quality Spas deliver the hot tub cover?
Quality Spas is currently unable to deliver any hot tub covers. Our dedicated team is working to provide the best possible customer service, and to ensure that our customers receive their orders in a timely manner. In order to maintain our high level of customer service, we cannot afford to have our team off the floor at this time. We understand how frustrating this can be, and we appreciate your patience as we work to resolve this issue. Rest assured; we are doing everything we can to get your hot tub cover to you as soon as possible. Thank you for your understanding.
Can I drop off my old cover?
Unfortunately, Quality Spas is unable to accept old hot tub covers due to space limitations in our dumpster. We encourage you to dispose of your old hot tub cover at a dump or landfill near your home.