We look forward to working with you!
We have been working in the hot tub industry in Spokane for almost 30 years. We love our job and aim for customer satisfaction in everything we do. Our customers are what keep our business going! We would love to assist you in finding the perfect hot tub or swim spa to meet your needs. Please explore our website and feel free to visit our showroom.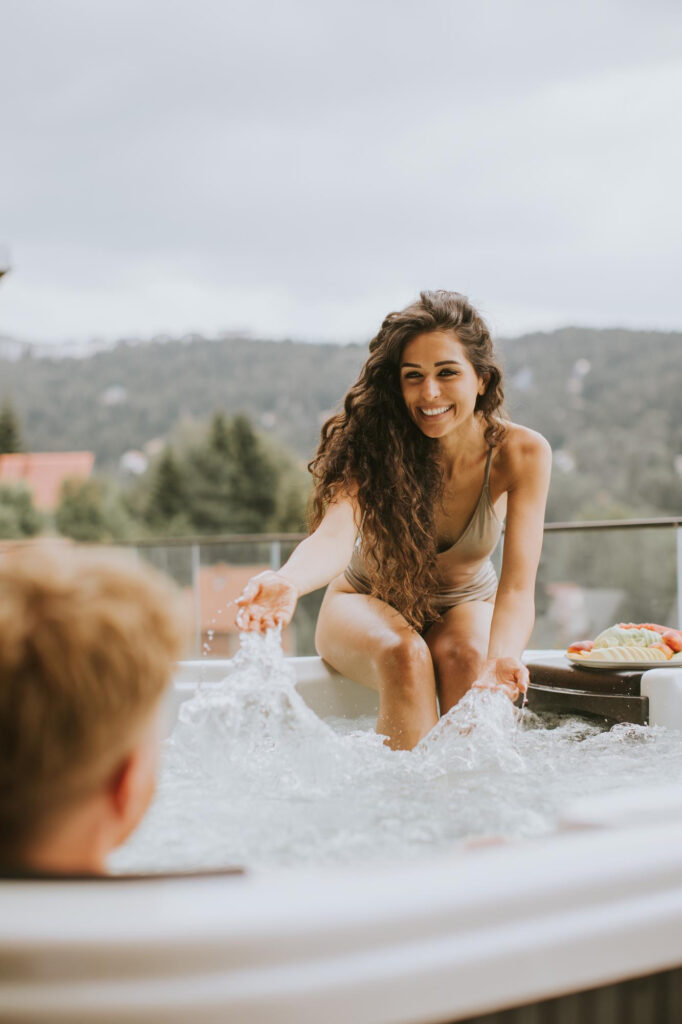 Tyson Frantz
★★★★★
Great place to buy! They have tons of stock, which is rare, and they are only a couple of weeks out on the delivery schedule. But, that's not enough for a 5 star review. What made me leave the review was the customer service.... Easiest purchase ever, but when I needed a little help with my new spa they were there to help so quickly and get our tub up and running. Courteous, friendly, and super knowledgeable. I'll refer others, just as I was referred to them!
Sherrye Price
★★★★★
I cannot make enough positive remarks about this place. Every person was informative and kind. The hot tub is beautiful but it was the customer service that "had me from hello." Even the delivery men were so helpful and answered all my questions. They even stored our tub for months, for free! Special shout out to Isaac. His customer service skills cannot be replicated because he's SO outstanding! Thank you, all !!!!
Spencer Scott
★★★★★
We bought our hot tub from Jeff in late 2019 after looking for over a year, he was friendly and enthusiastic about providing excellent service. Delivery was on time and easy. Since then we've been back for supplies and always been happy. At the beginning of lockdown Jeff went out of his way to sell us a filter which he then put outside so my wife could pick it up - before curbside was even a thing. Jeff and his staff go above and beyond for every request. Highly recommend this local business. Thank you Jeff and staff!
David Pickrell
★★★★★
I would like to give a shout out to the staff at Jeff's Quality Spas, they (3 different team members) walked me through each step of cleaning and maintaining a healthy hot tub,that hadn't been turned on for 4yrs, that I know of. They were truly professional and understanding of a person that has only sat in a hot tub and not had the pleasurable experience of cleaning and maintaining one. Thank you once again for your help
Christie Hubble
★★★★★
Very pleased. Cherie guided me perfectly on how to get gravel to prepare the site, who could do the labor, sold me the pad for placement, and who to call to move the hot tub. It all went very smoothly. Thank you
Jennifer Shupe
★★★★★
We could not be more happy with both our new swim spa or the amazing customer service from Jeff and his crew. Everyone was kind, helpful, knowledgeable, and quick. We felt confident in our purchase and am thankful for the support that follows. Everyone loves Jeff and he has a client for life.
Karin Herling
★★★★★
Customer service was amazing. I haven't purchased yet, but I stopped in today in my search for a quality hot tub that is comfortable dry. I had amazing service and gained great information. Looking forward to working with Jeff in the near future to purchase our tub.
Shannon Palmer
★★★★★
Just called because I found their website with swim spas listed. I'm so overwhelmed by all the choices and even though they can't sell me a swim spa (we live in Illinois) Jeff took 5 minutes to listen to what we need and recommend the exact swim spa we should purchase. So very appreciated!!!
Michele Furulie
★★★★★
I was looking to buy a swim spa and they were the only ones who had them in stock. Jeff was the best. I didn't have anything set up for it yet and he said it was no problem for us to leave it there till we got everything ready. My husband wanted to go measure it and Jeff was so nice to help us with that. He also let my daughter and grandson pick out rubber ducks! I would totally go to quality spas again and recommend them to everyone I know
Cindy W
★★★★★
Jeff's Quality Spas are great. And I would like to give a BIG compliment to Master Haulers who delivered our Diamond 50. They were professional, skilled and really knew what they were doing. Took the time to show us what was needed on start-up and overall were just great. An unbeatable combo, Quality Spas and Master Haulers. Don't think you can do any better!!!!